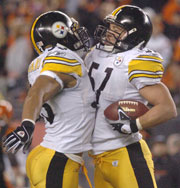 James Farrior  #51
Position 
Middle linebacker
Height 
6 ft 2 in (1.88 m)
Weight 
243 lb (110 kg)
Birthdate 
January 6, 1975
NFL Seasons 
12
College 
Virginia
James Alfred Farrior is an American football player who currently plays as an inside linebacker for the Pittsburgh Steelers of the National Football League. He played college football at the University of Virginia, and played with the New York Jets from 1997 to 2001.
This article is a Stub!
Coach Cowher says "This article could be better, so get in the game and fix it!"

Please expand this article as well as you can!
Ad blocker interference detected!
Wikia is a free-to-use site that makes money from advertising. We have a modified experience for viewers using ad blockers

Wikia is not accessible if you've made further modifications. Remove the custom ad blocker rule(s) and the page will load as expected.