Mike Tomlin is the current head coach of the Pittsburgh Steelers. Tomlin is the youngest head coach in any of the four major North American professional sports. He is the tenth African-American head coach in NFL history, and first in Steelers history. He is also the youngest head coach to win a Super Bowl. He is the third consecutive Steeler coach to win his first game, and the first head coach in Steeler history to win his first contest against the rival Cleveland Browns.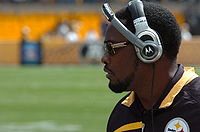 Tomlin led the Steelers to the 2007 AFC North Division championship and a 10-6 record in his first year as head coach. The Steelers lost in the first round of the playoffs to the Jacksonville Jaguars, 31-29. Tomlin began his career with a 15–7 record in regular season play—as did his predecessor Cowher and all-time win-leader Don Shula. Tomlin set a Steelers record for most wins, after winning 22 games in his first two seasons as head coach. In addition, he became the first Steeler coach to win division titles in his first two seasons.
When the Steelers defeated the Baltimore Ravens in the 2008 AFC Championship Game, Mike Tomlin became the youngest NFL Head Coach to lead his team to a Super Bowl. He also became the third African-American to coach a team into the Super Bowl, joining Chicago's Lovie Smith and Indianapolis' Tony Dungy, (the two opposing coaches in Super Bowl XLI).
On February 1, 2009, Tomlin became the youngest head coach to win the Super Bowl when his Steelers defeated the Arizona Cardinals in Super Bowl XLIII, beating the previous record held by Jon Gruden.
Mike Tomlin was named the 2008 Motorola NFL Coach of the Year.