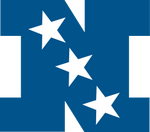 The National Football Conference (NFC) is one of the two conferences of the National Football League (NFL). The NFC was created after the league merged with the American Football League (AFL) in 1970. The NFC had 13 teams that year, all of which played in the NFL before the merger. Meanwhile, all of the former AFL teams along with the NFL's Cleveland Browns, Pittsburgh Steelers, and Baltimore Colts formed the American Football Conference (AFC).
The current 16 teams are organized into four divisions (North, South, East, and West) of four teams each. Each team plays the other teams in their division twice (home and away) during the regular season in addition to 10 other games/teams assigned to their schedule by the NFL the previous May. Two of these games are assigned on the basis of the team's final division standing in the previous season. The remaining 8 games are split between the roster of two other NFL divisions. This assignment shifts each year. For instance, in the 2007 regular season, each team in the NFC West will play a game apiece against each team in both the NFC South and the AFC North. In this way division competition consists of common opponents, with the exception of the 2 games assigned on the strength of each team's prior division standing. (i.e. the division winner will face the other two division winners in the NFC divisions that they are not scheduled to play) The AFC operates according to the same system.
This article is a Stub!
Coach Cowher says "This article could be better, so get in the game and fix it!"

Please expand this article as well as you can!