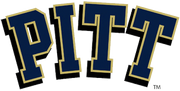 The Pittsburgh Panthers, commonly referred to as the Pitt Panthers, are the athletic teams of University of Pittsburgh. The university is a member of the Big East Conference, Eastern Wrestling League, East Atlantic Gymnastics League, and Eastern College Athletic Conference. Pitt fields 17 varsity teams at the highest level of competitive collegiate athletics in the United States, NCAA Division I. Recently, ESPN.com used the Sagarin system to rate universities based on the strength of their performance in football and men's basketball over the course of the last five years. Pitt was tied for 10th as one of the nation's top two-sport schools. In another recent ranking, an all-sports ranking done by Sports Illustrated on Campus, Pitt was ranked 17th among all of the country's universities in terms of the overall strength of its athletic program. Pitt is one of only five current NCAA Division 1A schools to have won multiple national championships in both football (5) and basketball (2).
Football
Edit
Traditionally the most popular sport at the University of Pittsburgh, football has been played at the highest levels at the University since 1889. During the more than 100 years of competitive football at Pitt, the University has helped pioneer the sport by, among other things, instituting the use of numbers on jersey's and desegregating the Sugar Bowl. Some of football's all-time greatest coaches and players have plied their trade at Pitt, including Pop Warner, Jock Sutherland, Marshall Goldberg, Joe Schmidt, Mike Ditka, Tony Dorsett, Hugh Green, Mark May, Dan Marino, Bill Fralic, and Larry Fitzgerald. Among the top schools in terms of all-time wins, Pitt teams have claimed nine national championships and boast 86 players that have been chosen as first-team All-Americans.
External links
Edit
Ad blocker interference detected!
Wikia is a free-to-use site that makes money from advertising. We have a modified experience for viewers using ad blockers

Wikia is not accessible if you've made further modifications. Remove the custom ad blocker rule(s) and the page will load as expected.