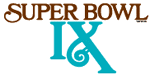 Super Bowl IX was a football game played on January 12, 1975 at Tulane Stadium in New Orleans, Louisiana to decide the National Football League (NFL) champion following the 1974 regular season. The American Football Conference (AFC) champion Pittsburgh Steelers (13-3-1) defeated the National Football Conference (NFC) champion Minnesota Vikings (12-5), 16–6, to win their first Super Bowl game.
This article is a Stub!
Coach Cowher says "This article could be better, so get in the game and fix it!"

Please expand this article as well as you can!