Super Bowl XLIII was an American football game between the American Football Conference champion Pittsburgh Steelers (15–4) and the National Football Conference champion Arizona Cardinals (12–8) to decide the National Football League (NFL) champion for the 2008 season. It was played on February 1, 2009, at Raymond James Stadium in Tampa, Florida.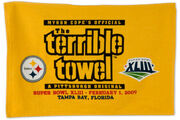 The Steelers defeated the Cardinals by a score of 27-23, earning their sixth Super Bowl win, thus securing sole possession of the record for most Super Bowl wins. This broke the three-way, five-victory tie the Steelers themselves achieved alongside the San Francisco 49ers and the Dallas Cowboys in Super Bowl XL. They also joined the New England Patriots as the second team of the decade to win multiple Super Bowls. The Cardinals sought their first league title since 1947 and only the second undisputed league championship in their history. Steelers wide receiver Santonio Holmes, who caught nine passes for 131 yards and a touchdown, including four receptions for 71 yards that led him to catch the game winning touchdown, was named Super Bowl MVP. He was the sixth wide receiver to win the award, and also was the third Pittsburgh receiver to win the award, following Lynn Swann and Hines Ward.
Ad blocker interference detected!
Wikia is a free-to-use site that makes money from advertising. We have a modified experience for viewers using ad blockers

Wikia is not accessible if you've made further modifications. Remove the custom ad blocker rule(s) and the page will load as expected.