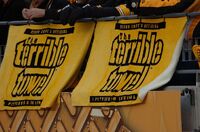 The Terrible Towel is a gimmick created for the encouragement of the Pittsburgh Steelers, an American football team in the National Football League (NFL).
This article is a Stub!
Coach Cowher says "This article could be better, so get in the game and fix it!"

Please expand this article as well as you can!